The Friday Scramble
Brand New for 2020 - The Friday Scramble is a 3 person team Texas Scramble Open Competition over 10 holes.
The Friday Scramble is ideal for players taking an advantage of an early finish from work or a half day, who want to play competitive but fun golf on a Friday afternoon.

A block of Tee Times from 1.30pm are reserved for Friday Scramblers, although players can play in the Open using any available tee time from 9am on the day of the competition. If you want to enter The Friday Scramble and play in a tee time outside of the reserved 1.30-3pm block, please call the Pro Shop to book your time.

The Friday Scramble will take place on the final Friday of each month, starting on Friday 24th April 2020.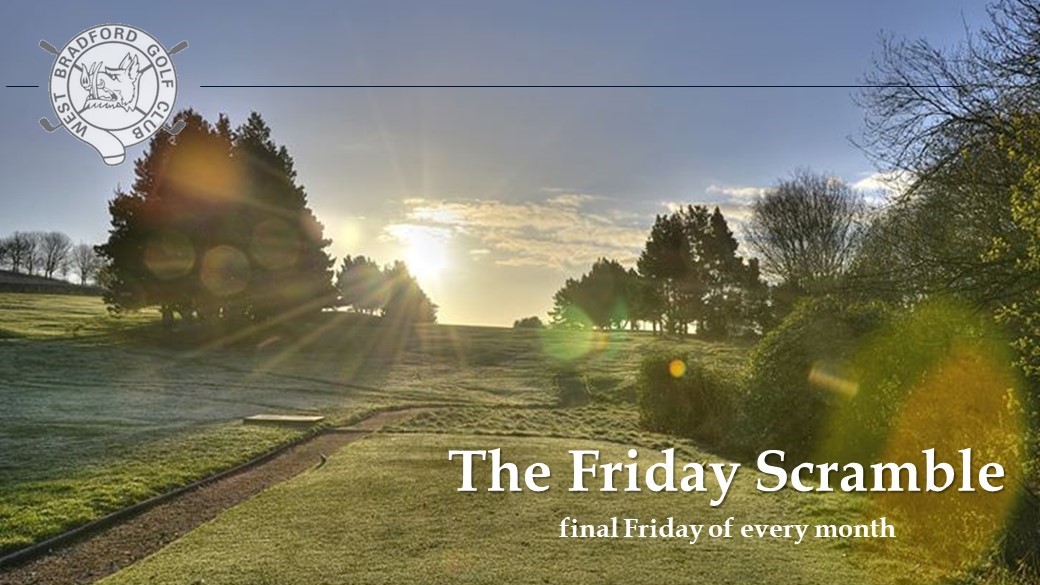 2020 Dates
Friday 24th April
Friday 29th May
Friday 26th June
Friday 31st July
Friday 28th August
Friday 25th September

The entry fee for the 2020 events is £10.00 per player for Visitors, £5 per player for Members.
Competition Format
3 Person Team Texas Scramble
Open to Members and Non-Members
Handicap Limit: 28 (Men) 36 (Ladies)
Age Limit: None
Catering
Full catering available throughout the day, in the West Bradford Clubhouse.
Prizes
TBC
Reserve a Tee Time 
Click here to enter this competition



Please note: online tee time bookings are available for 1.30-3pm tee times only, outside of these times please call The Pro Shop to book your tee time.