The Annual Dinner.
The West Bradford Golf Club Annual Dinner and Prize giving is, as the name suggests, a once-a-year event. It is a formal occasion honouring that years prize winner. The dinner is normally hosted by the Captain and the President.
If you've never attended The Annual Dinner before, this is a handy guide on what to expect.
When is the dinner?
The Annual Dinner is always held on the Friday before Remembrance Sunday in November each year.
Who can attend?
The Annual Dinner is open to all male golf club members (lady members have their own Annual Dinner one week later). Any Club trophy winner is normally expected to attend the Annual Dinner.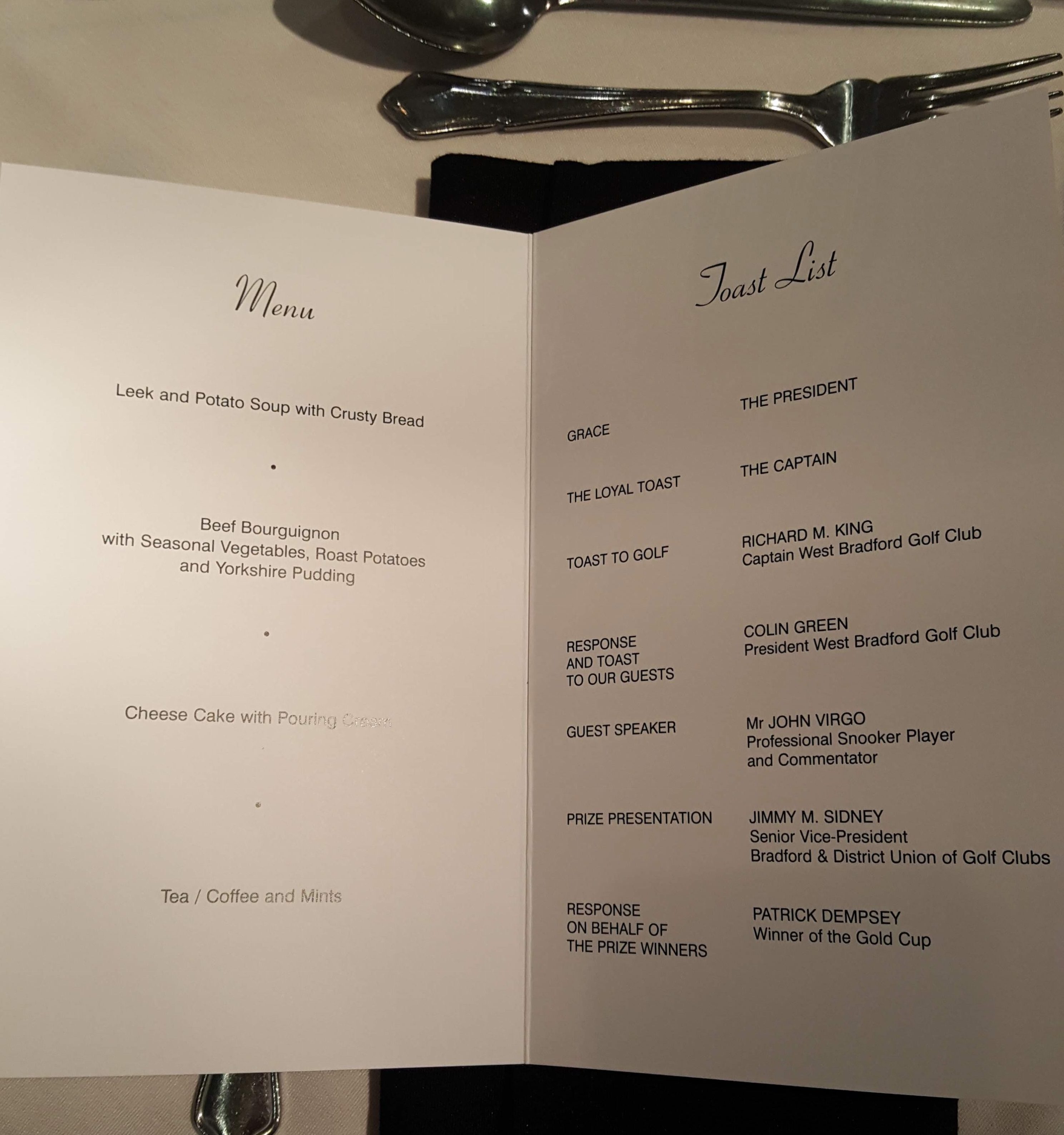 Whats the Dress Code?
The event is Black Tie - this means you'll be expected to wear a tuxedo and bow tie if you are attending the event.
Whats the format of the event?
The event normally starts at 7pm, which is when guests start arriving for a pre-dinner drink. Guests will be called to their tables at around 7.30pm. There are a number of toasts - normally made by the captain - before guests sit down to eat. The dinner is four courses - a starter, a main course, a dessert, followed by coffee. After dinner a guest speaker normally entertains the room before short speeches from both the Club Captain and Club President. A prize presentation then follows the guest speaker. The winner of The Gold Cup is the only prize winner invited to make a speech, after which guests then retire to the bar for a few after dinner drinks.
What else should I know about the event?
The Annual Dinner is a formal event and as such, has a number of traditions and quirks associated with it that guests should know about before they attend. You needn't be intimidated by these rules, the Annual Dinner is a fun evening which is only improved by the traditions associated with it.
1. Guests should not make their way to their table until called. The Master of Ceremonies will call you to your tables when the time is right, until then stay in the bar.
2. Don't sit down at your table until you are invited to. When you are first called to your table, stand behind your chair until you are invited to sit down by the Master of Ceremonies. This is normally after the top table of club officials has been clapped into the room.
3. Don't remove your jacket until you are invited to. This is another rule that demonstrates the formality of the evening - guests must keep their jackets on until a club official invites all guests to remove it if they wish.